The KT Taping Method has taken the Rehabilitation and Sports Medicine world by storm. Developed by Dr. Kenzo Kase nearly 25 years ago in Japan, KT Taping has become the gold standard for therapeutic rehabilitative taping. Our proprietary method of taping uses a uniquely designed and patented tape for treatment of muscular disorders and lymphedema reduction.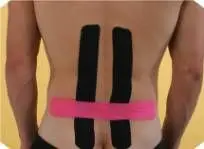 The KT Taping Method involves taping over and around muscles in order to assist and give support or to prevent over-contraction. The first technique gives the practitioner the opportunity to actually give support while maintaining full range of motion, enabling the individual to participate in physical activity with functional assistance. The second technique helps prevent overuse or over-contraction and helps provide facilitation of lymph flow 24 hours per day. It is most commonly used in the acute stage of rehabilitation. Correctional techniques include mechanical, lymphatic, ligament / tendon, fascia, space, and functional. Kinesio Tex Tape can be used in conjunction with other therapies, including cryotherapy, hydrotherapy, massage therapy, and electrical stimulation.
KT Taping affects the activation of the neurological system, the body's information processor, and the circulatory system. Muscles are not only attributed to the movements of the body but they also control the circulation of venous and lymph flows, body temperature, etc. Therefore, the failure of the muscles to function properly induces various kinds of symptoms. Consequently, so much attention was given to the importance of muscle function that the idea of treating the muscles in order to activate the body's own healing process came about. Using an elastic tape, it was discovered that muscles and other tissues could be helped by outside assistance. Employment of KT Taping creates a totally new approach to treating nerves, muscles, and organs.
KT TAPE PRO is engineered to perform in the harshest environments, to last for an entire week, through multiple runs, daily showers, in humidity, cold or in the pool. It features a patented Second skin Adhesive that will go as long as you do, and–no offense–probably longer.
Visit our Pearland Texas, chiropractic office in for a variety of services including sports injury care, pre-natal care, rehabilitation, nutritional counseling and total family healthcare.