3D ActiveTrac


The 3D ActiveTrac® is a unique table for back and neck pain treatment that adjusts to fit a wide variety of patients. Set-up is quick and easy since no ropes or pulleys are required. The angle of the cervical assembly can be adjusted from -20 to 30 degrees to accommodate every patient's needs.

Tailored Therapy

• Table accommodates the pain posture of the patient

• Patient comes into the clinic with limitations; this table can assist with making therapy more comfortable via the flexion and oscillation capability

• Table facilitates the incorporation of manual techniques with traction

• Cross between manual therapy and mechanical traction (strikes a balance)

Flexible Treatment

• Incorporates rotation

• Table is motorized versus a rope pull

• Can be used simply as a mobility table

• Treatment can start by moving the table as part of mobilizing the patient
3D Adjustability

Smooth, Steady 3D Adjustments - All dimensions are adjusted with easy, one-handed controls, allowing the clinician to control the position of the table and patient at the same time.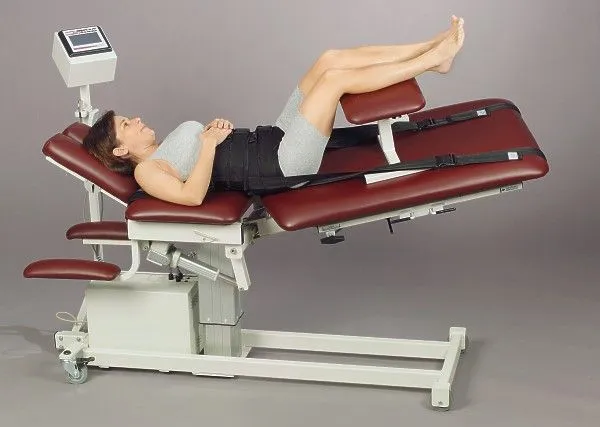 Cervical Decompression
The 3D ActiveTrac's removable, self-adjusting and laterally adjusting neck wedge mechanism sets into the table to provide up to 50 pounds of force. Our cervical decompression doesn't require ropes and pulleys - the whole mechanism moves to provide an active pull. The cervical headpiece angle is infinitely adjustable up to 30 degrees.

The self-adjusting neck wedges rotate through a 30 degree arc and are removable for easy cleaning or replacement. The rotation of the neck wedges combined with the ability to adjust the width ensures that even patients with extra large or extra small necks can achieve a perfect fit!
A Treatment Example
Many patients with herniated disc present with flexed, laterally shifted postures. This makes it painful, if not impossible, to lie flat on the table for decompression treatment.

In the past, patients with these painful conditions were not good candidates for lumbar decompression treatment.

With the 3D ActiveTrac, side bend and lower the lumbar end of the table to accommodate the painful posture.
As decompression takes place, we are able to move the table into a more neutral (flat) position.
In many cases, patients treated in this manner leave our clinic standing upright with no leg pain!

This exciting new treatment method allows treatment of herniated disc and other difficult conditions earlier than ever before, giving the patient a chance to avoid surgery.